Catherine Breillat, known for stark, provocative art-house films, turns to costume drama. And she brings a little of her previous style to the genre, particularly in the cinematography, which avoids soft or filtered light for brilliant, bright 'real' colour. Breillat says she was drawn to the material because the author of the original 19th century novel challenged the mores of his day, while also living with the guilt imposed by a Catholic society. That struggle between yielding to desire and living with sin seems to be the motivating force of the film.
Breillat casts the libertine young – he's supposed to be 30 but Fu'ad Aït Aattou was in his early 20s when he got the part. Asia Argento is also probably too young – the film (and book) literally translates as 'The Old Mistress' in French. But Breillat was looking for a rock n roll dimension to the character of the courtesan, and Argento certainly comes with an insouciance that tears right through the mannered performances of all who surround her – slouching, smoking, grimacing like Johnny Depp's Jack Sparrow. Aattou is a model, and is mostly there to look like a Renaissance boy – big lips, big eyes, tousled hair. He's there to be ogled as much as to act.
The film is framed by the libertine telling the grandmother of his betrothed about his 10-year love affair with a courtesan, and there's certainly something of Breillat in the kind, accepting matriarch listening to the sexual liaisons of a beautiful youth. But Breillat also identifies with Aattou's character, and his death-defying passion for Argento. Aattou takes a bullet for her, and at the end of the film she begs him to shoot her if he cannot continue their relationship. This image of violent penetration is an obvious stand-in for the depth of their obsession with each other, although the love-making scenes are rather languid, as if they are both in the middle of a heroin kick.
Aattou's bride is a blond, chaste beauty who is horrified by sex, but that seems to be a turn-on for Aattou, who portrays himself as a genuine lover rather than a duplicitous rake. He is torn between the respectability of a traditional marriage in which the husband is the head of the wife (as the priest intones during the wedding) and being a slave in Argento's boudoir. Interestingly, Breillat isn't particularly interested in the pleasure he receives during his sessions with Argento – her pleasure is the focus instead. Aattou is either dominant or submissive, but there isn't really an option between the two, or a chance to trade roles in a contented, healthy relationship.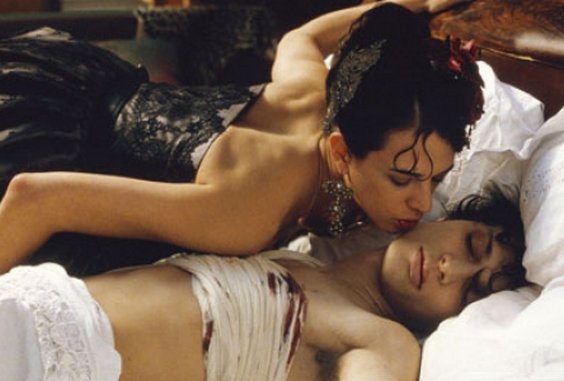 Perhaps Breillat's point is that the two sides are mirror images of each other at a time when religion warped human sexuality into sadistic or masochistic forms. Or perhaps she thinks there's no middle ground, and women are just there to conquer or be conquered.